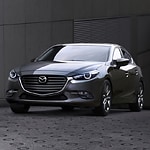 If you are searching for a popular hatchback with great design features, you will appreciate the Mazada3 5-door hatchback here at Cascade Mazda.
A feature that everyone will love as soon as the Mazda3 turns on is the Bose audio system that has 12 high-range speakers to pump out your favorite music with just the right base to provide entertainment to the whole family. If you tend to love quiet moments from time to time, you will be happy to know that the Mazda3 is engineered to insulate you and your passengers from all outside noises that could potentially be a distraction to you while driving. This feature is also beneficial to those of you carrying around young children who thrive off of naps during a short drive.
To find out more information on the Mazda3 5-door and what features will benefit you, stop on over to Cascade Mazda to take it for a test drive.