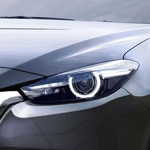 There is a lot to be excited about with the Mazda3 5-door vehicle. This has become a popular hatchback that is a lot of fun to drive. It is convenient in that it can hold a great deal of cargo and passengers alike. You will also notice that there are some notable design features as well.
There are times when you need your high beams to clearly see that path in front of you in the darkest of conditions. The high beam control will now make this easier for you. When oncoming traffic is on its way, the car will automatically switch to low beams for you.
There is also a smart brake support system built into the design of the Mazda3. If something is in your direct path, the car will apply the brakes for you to avoid a collision. You will also be alerted audibly. Take the Mazda3 for a test drive today at Cascade Mazda.